Housing Authority of the City of Hattiesburg
Hattiesburg, Mississippi
Our Mission
To promote adequate and affordable housing, economic opportunity and a suitable living environment free from discrimination.
What We Do: Public Housing Only
No Section 8 Voucher Program
Public housing was established to provide decent and safe rental housing for eligible low-income families, the elderly, and persons with disabilities. Public housing comes in all sizes and types, from scattered single-family houses to Highrise apartments for elderly families. There are approximately 1.2 million households living in public housing units, managed by some 3,300 HAs. The U.S. Department of Housing and Urban Development (HUD) administers Federal aid to local housing agencies (HAs) that manage the housing for low-income residents at rents they can afford.
The Housing Authority of the City of Hattiesburg manages 296 public housing units. Due to excessive wait times, our waiting list is closed indefinitely.
Where We Provide Housing
Our three locations are:
Briarfield Homes
Robertson Place Apartments - Apartments and Single-Family Houses
Hope Drive - Single-Family Houses
Our agency does not administer a Section 8 Voucher Program.
Services and Area Information
The public-school system is Hattiesburg Public School District.
The City of Hattiesburg has 29 parks, walking tracks and recreational facilities it maintains for the use and enjoyment by all citizens and visitors to Hattiesburg.
Housing locations are situated close to Hub City Transit lines.
Additional city information can be found at the City of Hattiesburg.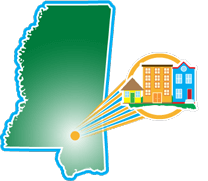 Maintenance Work Orders
Daytime and After-Hours Maintenance Emergencies:
For emergency after-hour work orders at Robertson Place Apartments & Robertson Place Houses please call 601.582.9955.
For emergency after-hour work orders at Briarfield Homes & Hope Drive please call 601.583.1881.
The Housing Authority of the City of Hattiesburg
List of Maintenance Charges
Effective: July 1, 2012
Chargeable Labor Rates $20.00 per Hour
Doors / Windows / Screens

| Item | Charge to Tenant |
| --- | --- |
| Blinds: Bedroom, Kitchen and/or Dining Room | $10.00 |
| Blinds: Bathroom | $12.50 |
| Blinds: Living Room | $20.00 |
| Interior Damaged/ Jammed Door (Minimum $30.00) | Cost of Materials + Cost of Labor |
| Exterior Door (Minimum $90.00 + Hardware) | Cost of Materials + Cost of Labor |
| Door Closure (cylinder) | $10.00 |
| Door Closure (pin) | $5.00 |
| Replace Glass Window Pane | $25.00 |
| Replace Storm Window | $30.00 |
| Replace Window Screen/ Door Screen | $35.00 |
| Screen Door Catch | $5.00 |
| Screen Door Handle | $10.00 |
| Shades | $10.00 |
| Wall Repair (Minimum $25.00) | Cost of Materials + Cost of Labor |
Locks

| Item | Charge to Tenant |
| --- | --- |
| Extra Key | $2.00 each |
| Lock Change: Single Door/Single Lock (1 bedroom upstairs) | $10.00 Two |
| Lock Change: Doors/ Single Lock | $18.00 |
| Lock Change: Three Doors/Two Dead Bolts (house) | $35.00 Lock |
| Lock Change: Out (after hours) | $25.00 |
Bathroom

| Item | Charge to Tenant |
| --- | --- |
| Damaged Shower Rods | $10.00 |
| Replace Commode (Minimum: Tank $50.00 & Bowl $45.00) | Cost of Materials + Cost of Labor |
| Remove Object From Commode: Without Pulling Commode | $25.00 |
| Remove Object From Commode: Pulling Commode | $40.00 |
| Replace Tissue Holder / Towel Rack | $10.00 |
| Replace Toilet Seat | $12.50 |
Globes

| Item | Charge to Tenant |
| --- | --- |
| Bathroom | $10.00 |
| Bedroom | $10.00 |
| Hall Light / Globe | $10.00 |
| Kitchen | $10.00 |
| Living Room | $10.00 |
| Outside Light / Globe | $10.00 |
| Remove Ceiling Fans | $15.00 |
Fines

| Item | Charge to Tenant |
| --- | --- |
| Clean Stove / Grease Shield / Refrigerator | $40.00 |
| Smoke Detector: Disconnected | $10.00 each |
| Smoke Detector: Missing Battery | $15.00 each |
| Smoke Detector: Damaged | $20.00 each |
| Smoke Detector: Missing or Taken Down | $25.00 each |
| Improper Trash Disposal | $25.00 |
| Littering | $25.00 |
| Loud Music | $25.00 |
| Parking on Lawn / Blocking Dumpsters | $25.00 |
| Trash / Debris Around Unit | $25.00 |
Kitchen

| Item | Charge to Tenant |
| --- | --- |
| Unclog Sink (Kitchen/Bathroom) | $20.00 |
| Defrost Refrigerator | $25.00 |
| Replace Fan for Vent Hood | $25.00 |
| Sink Strainer/Stopper | $4.00 |
| Unstop Tub | $25.00 |